The Department definition in OpenAir is most frequently used to support reporting, such as grouping users by department in utilization reports, and to control receipt of alerts such as Late Timesheet notices. Many customers also rename this field to be an even higher organization definition such as Office, Region, Country, and so forth. Setting up a Department is a simple New Form completion and save. What many customer don't realize, however, is that the Department object actually has a series of links to define out more information for the users within the department as well as controlling a department specific message to be displayed on the Home (or Dashboard or Account) page when users first login (provided they have not set their default module to something other than Home in their personal settings).
Access the Department list by going to Administration -> Global Settings -> Department (or Account -> Account -> Departments) and clicking on any defined department.
A series of links will be presented along with the initial edit form which you completed to create the department.
Click on the Message link to display a text field in which you can enter a customized message.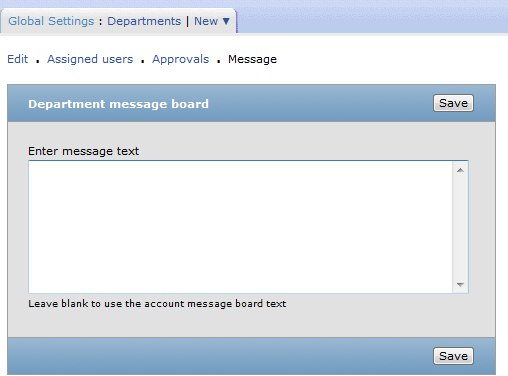 The message text may actually be entered as HTML which will be converted by the OpenAir UI automatically upon display of the message. To view a specific message and how it will appear, you can either edit your own user record (if you have the permission) to change your department then move to the home module to view the message, or you can proxy in as another user in the department to view the home page message (if you have proxy permissions).
Here's a fun example to get you started!
<font color=blue><b>TOP Step Consulting</b> helped me build this!</font>
<font color=red>
<li>It's easy</li>
<li>A simple tip was all it took</li>
</font>
<b><a href="http://www.topstepconsulting.com">CLICK HERE</a href> each week for more information</b>